YES! We have added the convenience of paying your utility bill online. Just click on the image at the right to link to the payment page where you can register for paying online.**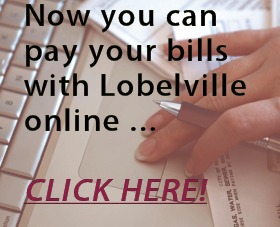 Lobelville Utilities: (931) 593-2285 – Hours: Monday-Friday 7:30am-4:30pm.
IMPORTANT: If you are disconnected, your account balance plus a reconnect fee will need to be paid in FULL before services are reconnected. If you are currently disconnected and make an online payment, your utilities WILL NOT be reconnected unless you contact our office to inform us of the payment."
**IMPORTANT INFO

LOBELVILLE UTILITIES ONLY ACCEPTS ONLINE PAYMENTS MADE HERE ON OUR WEBSITE THROUGH OUR AUTHORIZED PAYMENT PROCESSOR CITISEN PORTAL.

LOBELVILLE UTILITIES HAS NOT AUTHORIZED DOXO OR ANY OTHER ENTITY TO COLLECT ONLINE PAYMENTS THROUGH ANY OTHER 3RD PARTY WEBSITE.